On February 19, 2005, several hundred Falun Gong practitioners participated in the grand Lunar New Year Parade in San Francisco. After their initial application to take part in the parade was denied, practitioners made a great effort to explain the practice of Falun Dafa to people from all walks of life, broke through all kinds of obstacles and finally brought the goodness of Falun Dafa to hundreds of thousands of San Francisco residents. The procession was the best received entry in the parade.
The San Francisco Lunar New Year Parade is one of the largest parades in Northern California. Hundreds of thousands of people watch it every year and many TV stations come to conduct live broadcasts. Because of practitioners' outstanding performance in last year's parade, TV Channel-2 (FOX) included footage of Falun Gong practitioners' procession in last year's parade.
The Chinese Communist Regime desperately fears Falun Gong's is warm reception overseas
Through its Consulate in San Francisco, Jiang's faction has applied a great deal of pressure to local U.S. government officials and officials in surrounding cities. They also bribe local Chinese associations and Chinese media to wantonly spread lies slandering Falun Gong.
The San Francisco Chinese Chamber of Commerce was the organiser of the Lunar New Year parade. Some members of the chamber have close relationship with the Chinese Consulate. Several weeks before the parade, yielding to the pressure from the Chinese Consulate, the chamber unreasonably rejected Falun Gong practitioners' application to participate in the parade.
Falun Gong practitioners hold a press conference in San Francisco to expose the persecution and draw great attention from a number of media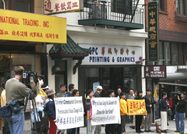 Press conference in front of the San Francisco Chinese Chamber of Commerce
On February 16, Falun Gong practitioners held a press conference in front of the San Francisco Chinese Chamber of Commerce, requesting a reasonable answer regarding the denial of their application to take part in this year's parade in San Francisco's Chinatown.
Practitioner Mr. Huy Lu said that this incident is another example of the Chinese Communist regime's extension of its persecution against Falun Gong through its Consulates to other countries. He said that practitioners had already sent a letter to Mayor of San Francisco, Mr. Gavin Newsom, to request an investigation into the incident.
Mr Lu said that Falun Gong is part of the Chinese community and it's supposed to be normal to take part in the Lunar New Year celebration. Falun Gong has participated in a good number of community parades and celebrations in the Bay area including grand parades in Redwood City and Alameda, and won many awards including first-place prizes.
Falun Gong practitioners' press conference in San Francisco drew great attention from the media. San Francisco TV Channel-2 (FOX), Chinese TV Channel-26, New Tang Dynasty TV, the Epoch Times, Sound of Hope Radio Network and Mingpao newspaper reported.
San Francisco Chronicle, the most influential local English-language newspaper, published an article as its top news on February 19 about the unreasonable rejection of Falun Gong practitioners' application. The article entitled, "San Francisco Politics on parade for Chinese New Year fest: Same-sex marriage float allowed - Falun Gong rejected" said, "Organisers of the Chinese New Year Parade typically try to keep politics out of the annual procession, but a same-sex marriage float successfully made a bid to be part of the festivities, and one honouring the spiritual movement Falun Gong will be notably absent from today's parade celebrating the Year of the Rooster."
Through discussing the facts in detail, Falun Gong practitioners break through obstacles and obtain approval to join the parade
In order to allow San Francisco residents to experience the beauty of Falun Dafa, practitioners unfolded a series of activities to clarify the facts. They explained the situation and facts about Falun Gong to related U.S. governments and parade organisations. Finally, practitioners obtained approval to attend the parade.
Practitioner Ms. Sherry Hang revealed that California Assemblyman Mr. Leland Yee made his concern over this incident known. He said, "How could it be this way? Our law stipulates that no discrimination is allowed." He said that Falun Gong practitioners have the right to request the organisers to provide a written explanation. Practitioners can request the City government to investigate on the incident. If any discrimination is discovered, the city government should not allocate funds for the parade.
Ms. Hang said that Mr. Weiliang Li, a city government official of San Francisco also expressed that the city government provides funds for the San Francisco Lunar New Year Parade every year. One rule in the articles of allocating funds states that organisers should not discriminate against anyone. This official said that if Falun Gong practitioners are discriminated against, they could file a written request to him and he would investigate it.
Spectators say: the Falun Gong entry is the best and the most beautiful
A resident from San Francisco Chinatown kept photographing Falun Gong practitioners' entry. He said that every group should be allowed to participate in the parade to celebrate the Lunar New Year, and that the Falun Gong procession was so beautiful and that it was the best and most beautiful entry that he'd seen that evening.
Falun Gong practitioner Ms. Zhang said that Chinese people value Lunar New Year celebration very much. As part of the community, we are very happy to participate in the celebration parade. The parade showed people the peaceful Falun Gong exercises, a waist-drum troupe, graceful lotus flower dancers, lantern dancers, and a peacock dance, as well as a Tang Dynasty costume show and flag arrays. Spectators on both sides of the road warmly received us. They especially loved our traditional Chinese dance performances. Many police officers applauded our entry as well.
Another practitioner said, "Many spectators heard that the Chinese Communist Regime attempted to impede us from taking part in the parade. When they saw us in the parade, they all cheered for us."
City council member rides a car decorated with banner imprinted with words, "Falun Dafa is great" and takes part in the parade
When San Francisco City Council member Mr. Chris Daly learned that Falun Gong practitioners' application was turned down, he invited practitioners' procession to follow his car and asked practitioners to unfurl a banner with words, "Chris Daly Supports Falun Gong". After learning that this would not abide by the parade regulation, he prepared two banners and put them on his vehicle. One is imprinted with words, "Falun Dafa is great", another with words, "Truthfulness-Compassion-Forbearance". He also invited two Falun Gong practitioners to ride with him and participate in the parade. Chris Daly's car received cheers from spectators along the route. Some people said: Truthfulness, Compassion, and Forbearance are truly great!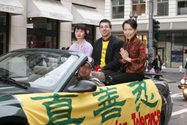 San Francisco City Council member Mr. Daly and Falun Gong practitioners in the parade
Media vie for each other to report on Falun Gong
Before the parade set off, a number of media outlets including NBC TV, ABC Channel 7, and KCBS radio station looked for the Falun Gong entry to cover the news.
Media gathering news
You are welcome to print and circulate all articles published on Clearharmony and their content, but please quote the source.