Yang Zhenyu (his nickname is Yuyu) was born in November 2001. He was a very lovely and active boy, but now he has become very silent. A child who is not yet three years old has changed so drastically, because his parents were sentenced to forced labour for practising Falun Gong.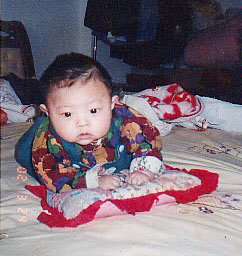 Yang Zhenyu's parents have been sent to do forced labour for practising Falun Gong in China
Zhenyu's father Yang Depeng is a teacher at Zhucheng City No. 9 Middle School in Shandong Province, China. He was illegally sent to forced labour merely for typing the sentence "Falun Dafa is good" on a computer. Learning of his father's arrest, Zhenyu's mother went to the police department to enquire about the situation. She was also detained by the police. The next day, the police, without following any legal procedures, sent Zhenyu's mother to forced labour too.
Now little Zhenyu has to be taken care of by his grandparents who are old and weak and have several illnesses. They live at Daguxian Village, Xiangzhou Town, Zhucheng City. Zhenyu and his grandparents have no income. Zhenyu' grandfather has only one good eye that can see thing clearly, while his grandmother is old and full of grey hair. They all long for the return of Zhenyu's parents.

Chinese version available at http://minghui.org/mh/articles/2004/10/15/86686.html
You are welcome to print and circulate all articles published on Clearharmony and their content, but please quote the source.