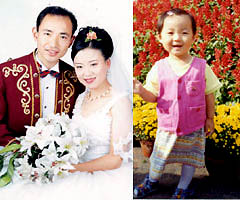 5-year-old Rongrong (right) lives with her grandfather after her father (left) was killed in police custody and her mother (also left) sent to a detention centre.
LONDON [EFGIC]– Along with the verified death toll of 1,099 Falun Gong practitioners has come the suffering of countless children in China. An international organization is now working to bring those children out of China to a warm home.
Five-year-old Rongrong is the kind of child this mission is aiming to help. The girl's father was tortured to death because he practised Falun Gong and her mother was later arrested. Her grandmother soon died of grief, leaving only the grandfather to take care of her.
Another case is that of Yang Kai, 12, and Yang Hang, 11. Police had abducted their mother from their home for practising Falun Gong, and she was killed within six months. With father Yang Zhanjiu serving a seven-year sentence, and with the grandmother abducted six times and tortured for supporting Falun Gong, the two boys were left with the grandfather to take care of them.
To help children like these, the Global Mission to Rescue Persecuted Falun Gong Practitioners (website) is collecting and organizing cases in which Chinese children became orphans or lost parents due to Jiang Zemin's persecution of Falun Gong in China. The organization has issued an initial report (report) and is working with other NGOs to open up channels that will allow these children to be received in safe countries.
Dr. Elizabeth Wang, the Global Mission's director, says, "In addition to losing their family and the care required for their age, these children have also lost their dignity as human beings. They've been discriminated against and viciously defamed in society, in schools, and even in kindergartens. They were labelled as bad kids, or the kids of bad people."
The international organization, with branches in 16 countries, has also documented cases in which children have had to watch the abuse and beating of their parents.
For instance, in July 2000, as two-year-old Wang Shujie was being fed by her mother, police officers broke into her home and abducted all the adults. A few months later, the infant watched as police hit her father across the face with a book during interrogation. She immediately passed out. After regaining consciousness she began sweating and had a fever. She swayed from side to side and became restless, banging her head against the wall. She stopped growing and stopped eating, became skin and bones, and died in July 2002.
"There are also children who have been beaten, sent to labour camps, and expelled," says Dr. Wang. "These children have lost everything. They have no money to support themselves for school or day-to-day needs."
"These needs as well as warm, loving homes are precisely what the organization is striving to provide for these children, who have already lost so much."
# # #
NEWS– Nov.01, 2004
European Falun Gong Information Centre, More contacts. www.clearharmony.net
Background
Falun Gong, also known as Falun Dafa (about), is a practice of meditation and exercises with teachings based on the universal principle of "Truthfulness-Compassion-Tolerance." Practised in over 60 countries world-wide, Falun Gong has roots in traditional Chinese culture. With government estimates of as many as 100 million practising Falun Gong in China, China's then-Communist leader, Jiang Zemin, outlawed the peaceful practice in July 1999 (report). Since that time, Jiang's regime has intensified its propaganda campaign to turn public opinion against the practice while imprisoning, torturing and even murdering those who practise it. The European Falun Gong Information Centre has verified details of 1099 deaths (reports) since the persecution of Falun Gong in China began in 1999. In October 2001, however, Government officials inside China reported that the actual death toll was well over 1,600. Expert sources now estimate that figure to be much higher. Hundreds of thousands have been detained, with more than 100,000 being sentenced to forced labour camps, typically without trial.

FOR MORE INFORMATION, PLEASE CONTACT THE EUROPEAN FALUN GONG INFORMATION CENTRE – Peter Jauhal + 44 (0) 7739 172 452 Nicolas Schols +32 47 98 75 734
More contacts. www.clearharmony.net Email: europe@falungonginfo.net
You are welcome to print and circulate all articles published on Clearharmony and their content, but please quote the source.