Since the first Falun Gong exercise instruction venue in Peru was established in 2000, Falun Gong practitioners hadn't held any 9-day seminars of the teachings of Falun Gong given by Master Li1. As the number of people starting to practice Falun Gong has been constantly growing, they decided to hold the first 9-day seminar running from the 1st of June to the 9th to play the Falun Gong lecture videos which included a simultaneous Spanish translation.
The seminar was held at a western Falun Gong practitioner's home, and twenty eight people attended. After the seminar, practitioners shared experiences they had come across during their cultivation. Many other practitioners attended the 9-day seminar. This time, three seminars with different schedules were held at two practitioners' homes. Some practitioners attended the second seminar after having finished the first one.
In August, another three 9-day seminars were simultaneously held in different districts of Lima. One practitioner's home didn't have enough chairs, so the practitioner went out and bought ten more. On the first day of the 9-day seminar, twenty four people showed up and some people still had to stand through the first lecture.
From June to August, practitioners held seven 9-day seminars, and more than a hundred people attended. Upon finishing each seminar, practitioners shared experiences and the atmosphere was very harmonious.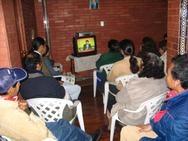 9-day seminars were held at practitioners' homes
1. Master - Respectfully referring to Mr Li Hongzhi, the founder of Falun Gong.
You are welcome to print and circulate all articles published on Clearharmony and their content, but please quote the source.