Falun Gong practitioners in Northern Ireland went to Londonderry to visit the European Constituency Office of the Sinn Fein Party, to raise awareness about the Chinese Communist Party's (CCP) persecution of Falun Gong and the CCP's live organ harvesting. They hoped that Martina Anderson, Member of European Parliament (MEP), would sign the written statement, "Stop the live organ harvesting of prisoners of conscience in China," initiated by twelve MEPs.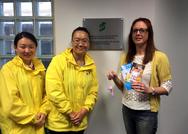 Political adviser Joanne McDaid and Falun Gong practitioners
Joanne McDaid, political adviser to MEP Martina Anderson, met with the practitioners. She said after talking with the practitioners, "MEP Anderson has been paying attention to human rights. The CCP's live organ harvesting must be stopped. I will transfer all the information materials about the persecution of Falun Gong to her. We wish to spread the signature collection form against the forced organ harvesting to human rights organizations in 54 countries in Europe, and wish them to join the effort to stop the persecution."
She posed for a group photo with the visiting practitioners after the meeting. She said, "I support your effort to stop the live organ harvesting. You are welcome to the Constituency Office if you have any request." She later sent an email stating that MEP Anderson would post the information about the persecution on her social media accounts to let more people know about it.
Falun Gong practitioners later went to downtown to hold activities to raise awareness of the CCP's live organ harvesting. Many people signed the petition to stop the CCP's atrocity.

Meghan Murray
Meghan Murray is a nurse in Mater Hospital. She said after learning about the CCP's live organ harvesting, "I did not know such a crime of live organ harvesting for profit is occurring in China. The CCP conducts such inhumane acts. It is incredible!"
Albert McCloy, a local resident, came to view the poster boards containing Falun Gong information when the event was about to end. He said excitedly, "Thank you! Thank you for coming here to let us know this." He invited the practitioners to have coffee. He said, "You work hard! What you do has significant meaning. I sincerely hope the persecution stops as soon as possible."
You are welcome to print and circulate all articles published on Clearharmony and their content, but please quote the source.