Two high school students who encountered Falun Gong at a public demonstration in London were inspired to bring the message to their school.
On May 26, 2016, Felix Walker and Martin Quick brought a series of informative activities to their high school, Lycée Français Charles de Gaulle, a prestigious French language school in South Kensington.
The two half-French seventeen-year-olds organized a presentation on Falun Gong, a documentary screening, and a guest speaker whose parents were persecuted in China for practising Falun Gong.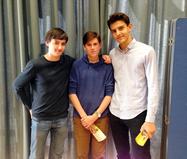 Felix Walker (right), Martin Quick (left) and their friend Oliver who said the Falun Gong presentation gave him a new perspective on the situation in China
"We feel compelled to do something to stop the persecution. That's the first reason why we decided to organize this activity," said Martin.
During Chinese president Xi's visit to London last October, Martin and Felix saw Falun Gong practitioners with large banners near the Palace of Westminster. The young men talked in depth with a Falun Gong practitioner. They had a wish to bring this information to their school.
After months of efforts, they made it happen. Their economics teacher agreed to use her class time to hold the two-hour event. Close to 100 students and teachers attended. Some students even switched their class times in order to attend.
Felix and Martin first gave a brief presentation on Falun Gong and gave an overview of the persecution and organ harvesting atrocities in China.
Next, they showed the award-winning documentary Free China: The Courage to Believe. After the film, a Falun Gong practitioner, Amy, spoke on her parents' personal experience of being persecuted in China. They had been imprisoned for 15 years and 11 years. Her father had been cruelly tortured in prison.
"I noticed many people were touched by Amy's story," said Felix. "They looked sad and shocked, because they had never heard about it. I believe most people will tell their family and friends about it."
"We wanted our classmates to know about Falun Gong," said Felix. "It's relevant to everybody."
Martin added, "You rarely hear news about the persecution of Falun Gong, actually never. We simply want to show what is happening in China, because, as said in the film, these are covered up and aren't widely known."
Their friend Oliver said the film opened his eyes to the real situation in China. "It's not just Falun Gong. Everyone living in China suffers from this regime every day."
"Fear and weakness are holding back China from such great potential," noted Oliver. "Because of this regime, the world is denied a whole culture, because its ideology is based on the Communist Party's power. It's horrible! The Western world isn't aware of this, because it's quite hard to get true and accurate information that's uncensored."
Oliver said that most people see China as a big power, but they really don't know it was built on such inhumane practices. "They don't see what is going on inside," he said.
"For people of our age, who don't necessarily think too much about the world, but will go to universities in a few years, they really need to know the truth of what's going on in the world, so that they don't form misguided opinions. It's really important."
Felix and Martin found that the process of making the Falun Gong presentation happen was harder than they thought.
The boys did a lot of investigation, including information from the United Nations, the investigation report by David Matas and David Kilgour, two Canadian experts who investigated the claims of forced organ harvesting from Falun Dafa practitioners in China, and the work by Doctors Against Forced Organ Harvesting (DAFOH).
"The data was very convincing," said Felix. "The Chinese Communist Party claimed the organs mainly came from family members, but it's not true. In one year, there were 300 liver transplants, but it suddenly jumped to 1700 the next year. There is obviously some inside story."
Felix and Martin hope to organize another activity in their school in a few months to show a documentary focused on the issue of organ harvesting from living Falun Gong practitioners.
You are welcome to print and circulate all articles published on Clearharmony and their content, but please quote the source.