As the Chinese presidential delegation arrived, Queen Elizabeth II and the royal family saw Falun Gong practitioners' peaceful appeal in London at the Buckingham Palace.
From 8 am to 6 pm, Falun Gong practitioners held up banners that read "Falun Dafa is good," "Stop persecuting Falun Gong," "Stop the forced organ harvesting from Falun Gong," and "Bring Jiang Zemin to justice," while demonstrating the exercises and passing out flyers.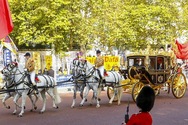 The gold carriage carrying the Queen and Chinese president Xi Jinping rode by Falun Gong banners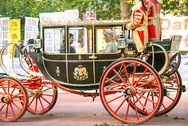 Prince Charles and Duchess Camilla pass by Falun Gong banners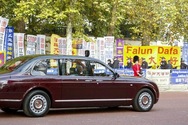 The Queen and Prince Philip drove by Falun Gong banners at around noon
Media taking footage of Falun Gong practitioners' protest
At noon, the Queen and Prince Philip drove to meet with President Xi. Prince Philip smiled and waved to the Falun Gong practitioners when he saw their banners. Prince William and Catherine's car was behind the Queen. Prince William looked at the banners intently and waved to the practitioners.
After inspecting the Royal Guard of Honour, President Xi and the Queen came back to Buckingham Palace in the Queen's gold carriage, while Xi's wife, Peng Liyuan, was accompanied by Prince Philip in the second carriage. Prince Charles and Duchess Camilla followed in the third. Prince Charles smiled and waved to practitioners, who were doing the Falun Gong exercises.
Falun Gong practitioners held a similar event in front of the Palace of Westminster, while Xi was giving a speech at Parliament. Many tourists learned about Falun Gong there for the first time.
The event drew coverage from BBC, ITV, Reuters, and other news media, which presented a great chance for the practitioners to raise awareness of the benefits of the practice and the persecution.
You are welcome to print and circulate all articles published on Clearharmony and their content, but please quote the source.