August 20, 2014 was Hungary National Day. The host of the National Day celebrations invited the European Divine Land Marching Band to participate in the parade. This was the second time the band has been invited to join the annual event.
Falun Dafa practitioners' Divine Land Marching Band joined the Hungary National Day parade
Hungarian national TV stations broadcast the parade live, and showcased the Divine Land Marching Band. Spectators packed the five-kilometer (about three miles) parade route, along which three stages were set up.
As the Divine Land Marching Band passed the first stage, the sky started to clear up. The master of ceremonies introduced Falun Dafa and its principles of Truthfulness-Compassion-Forbearance, and added, "They have brought us sunshine!"
He introduced the band as "unique, interesting and diversified." The band members came from all parts of the world. "The Europe Divine Land Marching Band represents the diversity of Europe," he shared with spectators. "A common goal forges the members together: to introduce the beauty of Falun Dafa with music."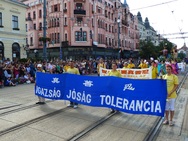 Truthfulness-Compassion-Forbearance
Ellen Kokfort lives near Hungary's border with Austria. She and her family liked the celebrations, and the performances by the Divine Land Marching Band.
Several ladies who live in Monor, near Budapest, showed interest in the band. They took Falun Dafa flyers, and commented, "More people should be honest, kind, and tolerant."
A young man from Mezőpeterd said that more people should follow the principles of Truthfulness-Compassion-Forbearance. He said he wanted to learn more about Falun Dafa.
Mr. Huang, a practitioner from Poland, drove 12 hours to join the event, and it also happened to be his birthday. He was happy to participate in the event, and said it was a special birthday celebration for him.
You are welcome to print and circulate all articles published on Clearharmony and their content, but please quote the source.